Joey Chiu Greenspring Inn Sunday Brunch Buffet
This is a tremendous buffet featuring:
Omelet Station
Smoked Fish – Nova Smoked Salmon, White Fish & Herring in Wine Sauce
Pastry bar – Bagels, Muffins, Assorted Breads
Bacon, Sausage, Potato Pancakes
Cheese Blintzes, French Toast
Steamed Shrimp
Chinese dishes – Orange Chicken, Beef Broccoli, Chicken Cashew Nuts, Vegetable Fried Rice, Vegetable Lo Mein, Szechuan String Bean
Assorted Specialty Salads
Fresh Fruit Montage
Cakes Station
Champagne, Mimosas and Bloody Marys – Orange Juice, Tea & Coffee
Click Here
for more photos taken from Baltimore's Best Sunday Brunch Buffet. Brunch is available every Sunday. An upgraded version of our famous Sunday Brunch is available on many popular holidays with enhanced food selections including New Years ($43), Easter ($43), Mothers Day ($43), Fathers Day, Thanksgiving and more. Call for reservations and current pricing for these special holiday brunches.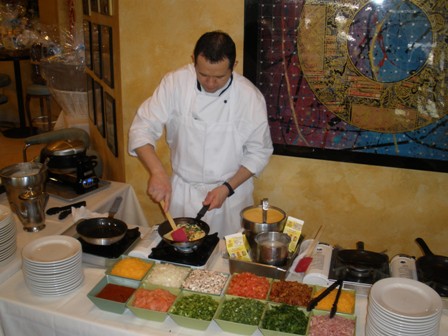 Sunday Brunch Hours: 11:00am – 2:00pm Regular Sunday Brunch Pricing $34 per person (Including Tax and Gratuity)
Bagel & Bread, Muffin, Pastries
Bacon, Sausage, Potato Pancakes
Cheese Blintzes, French Toast
Omelets Station
Smoked Fish
Nova Smoked Salmon, White Fish, Herring in Wine Sauce
Assorted Specialty Salads
Orange Chicken
Beef Broccoli
Chicken Cashew Nuts
Vegetable Fried Rice
Vegetable Lo Mein
Szechuan String Bean
Champagne, Mimosas, Bloody Mary, Orange Juice, Tea, Coffee
Experience Baltimore's Best Sunday Brunch – Reservations Recommended
---
Brunch available every Sunday as well as all major holiday Sundays including Easter, Mothers Day and Father's Day. Best Brunch in Maryland. Holiday brunches will have expanded items and seating times so make sure to call early for reservations